A Bot, or Chat Bot, is a computer program typically hosted in the cloud.  Bots are capable of performing tasks and collecting data from users through a humanised conversational experience.
Artificial Intelligence & Machine Learning
Thanks to the power of Machine Learning, our Bots have Artificial Intelligence capable of interpreting & understanding what the user wants.  They can then perform tasks, to retrieve information or perform complex processes. They use Natural Language Processing (NLP) to interpret user response and perform a resulting action.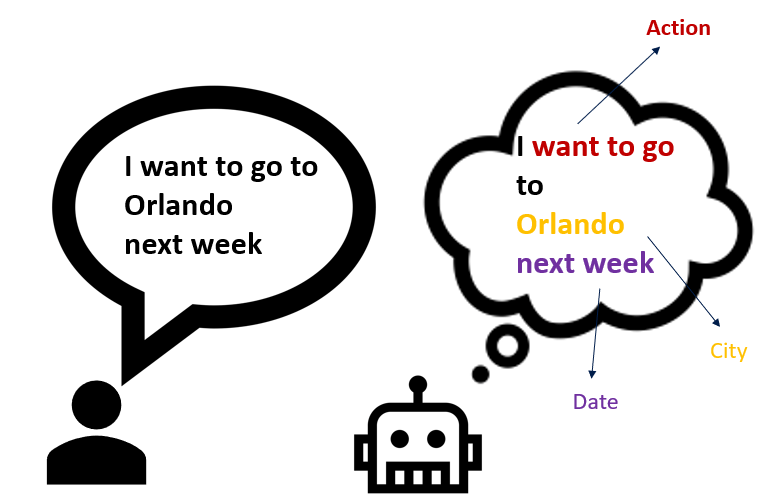 Always Available
Bots are typically hosted in the cloud and can interact with single users or groups of users simultaneously.    Our bot architecture is designed to be scalable, secure and reliable, ensuring maximum availability to  users.  Unlike humans, bots don't get tired and can happily work 24/7 – they are perfect for common, repeatable tasks.  More complex interactions can be catered for but user experience should be the first consideration when assessing feasibility.
Bots can talk to other systems
One powerful aspect of bots is their ability to interact with other systems. A user can ask a bot for their working rota and the bot can retrieve this information from the company HR system.  Bots can do more than just retrieve data – they can also perform actions. Who would have thought you could book a holiday or order stationary through a Bot?    By surfacing information and actions from existing systems, introducing a bot can simplify how your employees interact with systems in your IT landscape.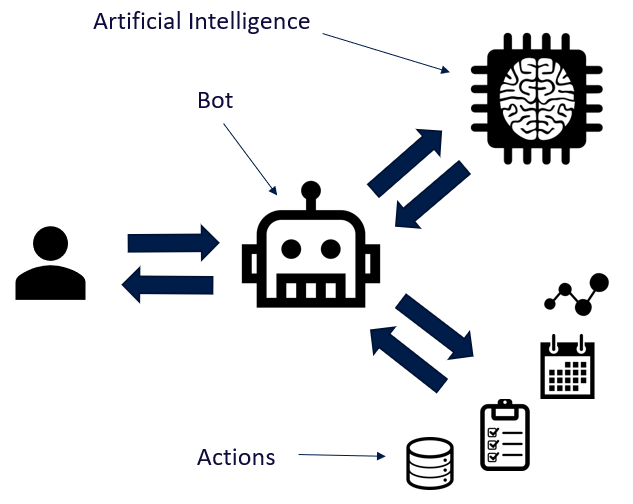 Use Case Examples
Holiday Booking Bot

 

via HR system integration

Ask a bot how many holidays you've got left
Tell a bot you want to book a holiday on specific dates
Have the bot send a message to your manager for approval
Have the bot send confirmation of the booking to you direct in Workplace or via e-mail

Stationary Ordering Bot

 

via external supplier integration

Ask a bot to view available stationary
Browser through options and add to your cart
Submit a request to the bot
Have the bot automatically process your order through your stationary vendor

Employee Awards Bot

Configure a series of questions to ask employees to nominate an outstanding employee
Target specific or all users to submit their votes
Have the bot deliver the questions in a conversational interaction
Compile and browse the results in an external system such as SharePoint
Ask the experts
These are just a few examples to get the juices flowing.  If you have an idea or business process that you would like to automate and incorporate into a bot, get in touch with the bot experts at Azuronaut.